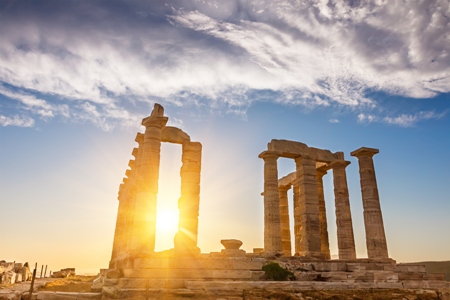 SOUNION (HALF –DAY OR FULL DAY COMBINED WITH ACROPOLIS TOUR)
The cape Sounion is an enchanting place to visit, located only about an hour and a half outside the city, offering to the visitors and travellers some of the most stunning views of the Attic landscape: The most expressive example of coexistence between beauty of Nature and the beauty of Art and Architecture.
Surmounted on a gorge almost 72 meters above the sea level stands the magnificent temple of Poseidon chanted through the centuries by numerous scholars and authors. The place that Aegeas , the legendary king of Athens leapt from into the water and gave his name to the Aegean Sea. Also a place of pilgrimage for romantic poets and philosophers including the great German philosopher Heidegger and the English poet Lord Byron whose signature can still be seen today at the site.
SUNION
Includes: Cape Sounio (Temple of Poseidon)
Duration: 4 hours
Cost:130 euros pickup from Athens City Center or Piraeus port, 160 euros pickup from Athens airport
FULL DAY TOUR ATHENS & SUNION
Includes: Acropolis – Temple of Olympian Zeus – Panathinaiko kallimarmaro Stadium – Parliament Change Of Guard – Ancient Market – Roman Market – Lycabettus, a view over Athens – Museum Visit choise between : a) national archaeological museum, b) the new acropolis museum, c) keramikos ancient cemetery, d) hellenic world interactive museum & tholos virtual reality theater, Cape Sounio (Temple of Poseidon)
Duration: 8 hours
Cost:240 euros pickup from Athens City Center or Piraeus port, 280 euros pickup from Athens airport